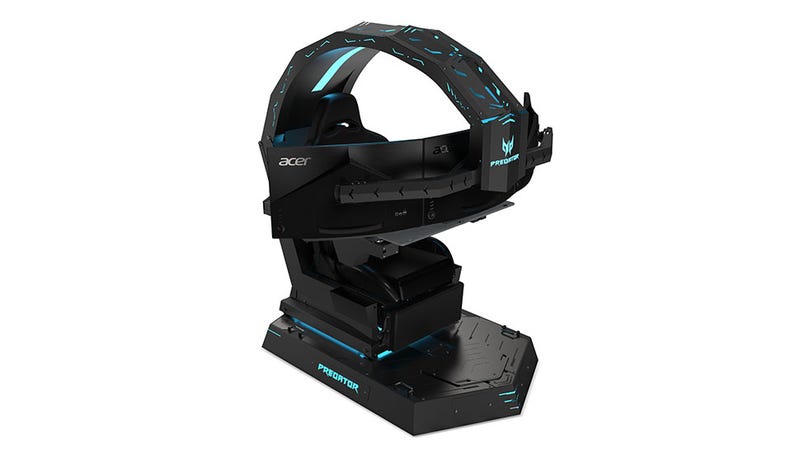 Acer announced some neat stuff today, including the availability of the Acer Swift 5—a 15-inch notebook that weights 2.18 pounds and Acer claims is the lightest ever built. But the absolute standout—the unit—of Acer's announcements is the Predator Thronos. And if you're thinking "Thronos" sounds like "throne" I am almost positive that was intentional because Acer will want you to feel like you're sitting on a throne when you drop so much money on a chair that can't be shown in public.
Acer hasn't disclosed the price, but the comparable MWE Labs Emperor Workstation starts at $5,305, which is a lot of money. There are some lovely ones from boutique furniture makers for that price. But those chairs are intended to last for years and grow up with their owners. I do not think a chair that seems to resemble a giant hamster ball for giant gamer rodents will grow with most owners.
But despite the sheer dorkiness of the design, I won't lie: I covet the Predator Thronos as its massive arm can support three 27-inch monitors. Why get VR when your vision can be consumed by 24 million pixels???
The Thronos stands almost five feet tall, reclines, glows, and can connect to games so it will vibrate when you're shot, or taking off in a jet, or when you need circulation in your ass because it fell asleep because you've been sitting in the Thronos for days now, and this is how people get bedsores.
Just. What a chair.
Sadly, there is also no word on availability.